Ever since his series of injuries, it has seemed as though there will be no redeeming moment for the 6 feet 6 inch Argentine giant, after the defining moment of his career seven years ago, the tennis player has been ravaged by injuries that greatly setback his promising career.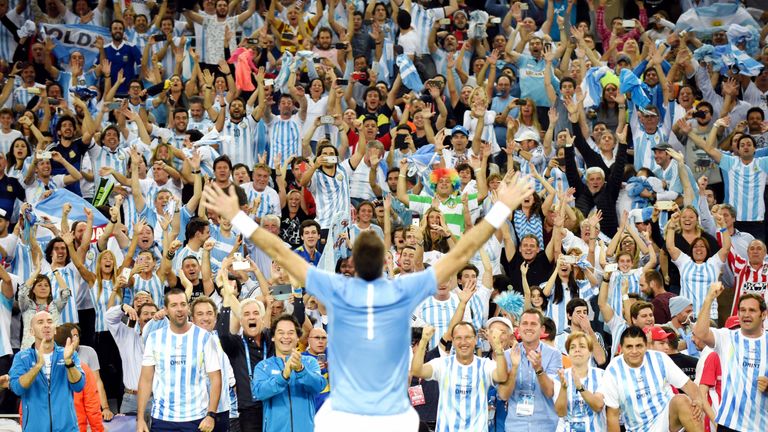 However, recent developments have shown that the Argentine has made remarkable progress in his effort to turn his career around for the better with the Davis cup glory. Juan martin Del Porto achieved a seemingly fairytale ending in Zagreb as he obtained an unforgettable comeback victory over a belligerent opponent Marin Cilic, which served as an inspiring factor to his teammate Federico Delbonis for a sensational and outstanding 3-2 victory over the hosts Croatia.
His amazing recovery and return to form is bound to reach out to tennis fanatics who have been yearning to see someone other than Andy Murray and Novak Djokovic making the headlines. After his triumphant finish at the US open, the Argentinean received a mind-blowing hero's welcome. He was grandly received back into the nation's capital of Buenos Aires with a parade to celebrate the tennis legend.
The tennis star has showcased nerves of steel as he launched an impressive comeback against his opponent and continued playing with a broken finger. Even with this, he managed to secure his victory against Cilic in an epic match that lasted four hours and 53 minutes. Heaping great amounts of praise on the player, the Argentina coach Daniel Orsanic had pointed out Del Porto's heroics.
"What Del Porto did was amazing. He represents his country with so much pride and he also showed how good a player he is." Going further, he said: "His achievements today borders on the impossible." His latest impressive heroics have earned him a space in Argentina tennis history and have set him up for the year 2017 where he is bound to be out for another major victory.